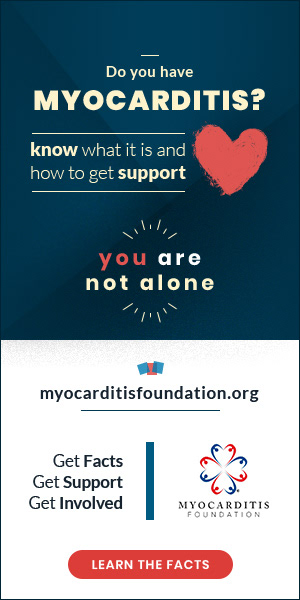 Design test from an agency, with evaluation purposes, in order to hire me.

BRIEF.
Assignment: Create one static and one animated ad.

Ad Sizes: You may choose either 300x250, 728x90, 300x600 or a Pushdown (970x90 /970x415). The Static and Animated ads do not need to be the same size.

Advertiser: Myocarditis Foundation.
Goal of Campaign: Educate people on what myocarditis is, how to get support and treatment 
Target Audience: People who have just discovered they have Myocarditis and/or have loved ones with Myocarditis
Benefit to Customer: Get the facts about Myocarditis, become less scared if you know the facts, there are others with this disease too, you aren't alone.
Call to Action: On all creative have a button that says Learn the Facts
Layout Instructions: Creative Freedom with design.

Images: Please use images from website or stock photography (watermarked is ok for this purpose). Attached are a couple of versions of the logo.

Copy: Please use some version of the below copy: 
Have You Been Diagnosed with Myocarditis or Giant Cell Myocarditis? Get facts, get support and get involved!